Some people claim that typing is now not an important ability. People are now switching from text-based search to voice search in the age of Google Now, Cortana, and Siri. There are several other streams, though, that it is not sufficient to speak to machines. That's why it can help with the right typing tools. Over time, touch typing skills for quick and responsive content development have improved. Fortunately, there are a couple of free typing apps for beginners to easily learn to type. Here we have discussed best free typing softwares.
An important skill that requires practise to master is being able to type easily and accurately. To hasten your development, you can use typing training tools while also learning techniques that can improve speed and precision. To help you progress, the best typing tutors provide precision instruction, ergonomics classes, and timed drills. Smart targets that adapt to your strengths and shortcomings will assist you in your typing to build muscle memory and hammer out flaws. It can feel like a long and monotonous task to learn to type, but typing tutoring apps with fun exercises and games can help you stay inspired. In your preparation, software that monitors your progress, pace, and precision will show you exactly how far you have come. These softwares will help in keeping your skills sharp.
We have just compiled a list of the Top 20 free typing tutor apps, which is one of the best out there if you plan to learn typing with the aid of a typing tutor. Without costing a penny and learning to type quickly, these are the best typing programmes on your PC. Here we have discussed many typing software alternatives that you can try.
KeyBlaze
It is a free typing app that helps its users to conveniently and reasonably quickly learn to type. It imparts through its cool Interface the learning method involved for typing and also allows the user to get acquainted with strong typing speed in a short span of time. This basic app is useful in even displaying the typing for beginners. It can be used conveniently and free of charge by schools and organisations to impart typing knowledge.
Klavaro
It is one of the best apps for free typing that allows to learn touch type skills. Due to the solid framework of course offered by the app, the student becomes well versed with the skills needed for typing, and different words are also provided for easy learning of the same and also to improve the rate of typing. A individual must have proper typing skills, which can not be ignored, in order to develop a successful career. Nowadays, the need for typing is a must in any field of work and therefore the comprehension of typing is important.
Typing Trainer
It is a freeware typing aid for practising the typing process and mastering it. You will face lots of difficulties in your everyday work without the experience of typing. So with the aid of this freeware, you will master the art of typing. It will give you a quick course of typing that is less than one hour when you first begin this application. After that it analyses the speed of typing and sends you tips and provides different lessons for studying and typing practise.
Rapid Typing Tutor
Free typing programme focused on mastering the skills of typing is the quick typing tutor. Different sessions and games are offered that improve the ability to type and also correctly increase the tempo. Its user-friendly feature helps children to benefit from this specific curriculum. In this application, numerous simulated keyboards, created by the programme, are also given. It is also available in several languages, such as German, Spanish, Russian, French, Dutch, English, etc.
Max Type Pro
It is a freeware typing programme that strengthens the users' typing technique through its multi-functional typing interfaces. Using this app also improves the rate of typing or the tempo and its precision. Through the use of this basic programme, the amount of typing is increased from beginner to intermediate, within a brief period of time. Daily updates and the realistic sessions used are the two key aspects of this particular software.
Type Faster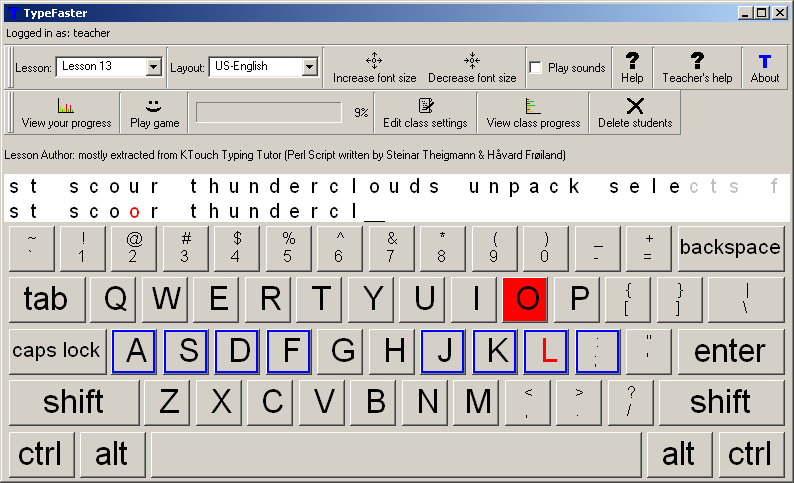 This free typing programme is free of use costs and allows the user to change typing methods and also allows him to practise. For a person whose work revolves around machine typing, where this capacity is strongly needed, typing becomes necessary. This app can allow you to learn touch typing and other similar skills. It is known as 'touch typing' if a human can type merely by touching his hand and not looking at the keys. It is not programme that is really difficult to learn, but a trivial one.
Bruce's Unusual Typing Wizard
It is another free software for typing which helps to learn the art of typing from the basic level. Designed mainly for intermediate or novice level users, but also offers experienced learners with levels. The app also provides a game in its course that helps the user to practise typing words and letters and enables several users at a time as well. The consumer has the luxury of creating his own lessons for typing and for practice-oriented purposes in Bruce's Peculiar Typing Wizard app.
Stamina Typing Tutor
This basic typing app aids in the acquisition and practise of typing skills. With proper practise of this app, the user's typing speed and precision is increased. The app offers a range of choices that help the user choose from the virtual keyboards. Not just this, but in multiple languages the app is presented as well. For the everyday enhancement of the user, this app shows the graphical representation in a user friendly way.
Letter Chase Typing Tutor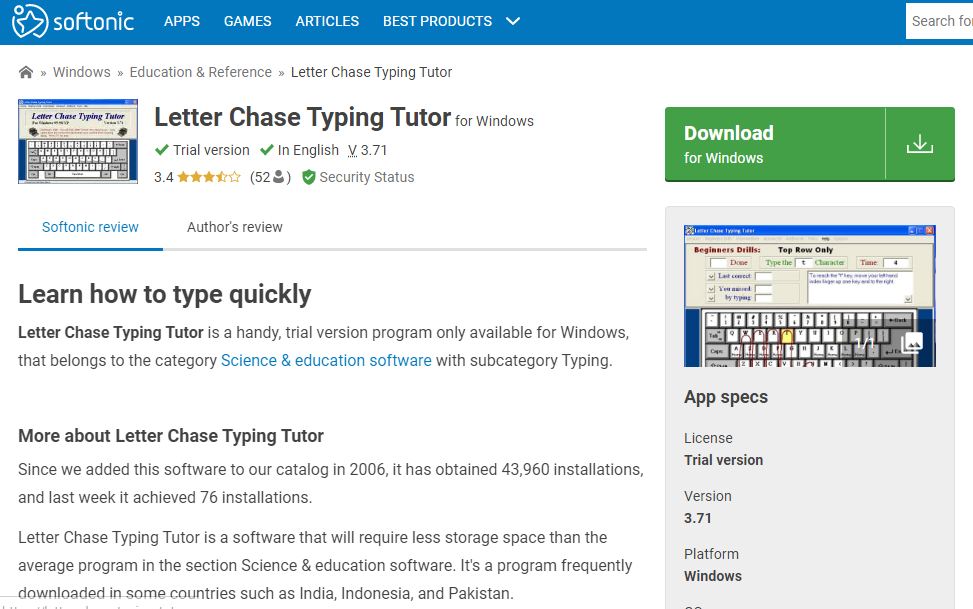 It is also known as the Learn The Keyboard, a free typing app that helps the user to write, free of cost, to learn. The programme offers knowledge of both the characters and numeric keys. The app demonstrates the basic memorising process and helps to master the whole keyboard. Schools and organisations can easily use it to teach students and kids about typing skills, which are important in the long run.
TIPP 10 Typing Software
It is a free course providing typing software that lets a person learn typing skills. It has several typing-related sessions or lessons which teach the user how to type. For the purposes of self-practice, a person may also develop his own practise classes. The growth and advancement of skills is seen on the computer every day. A trivial programme that comes in handy and is easy for any person to use.
Bodie's Typing Tutor4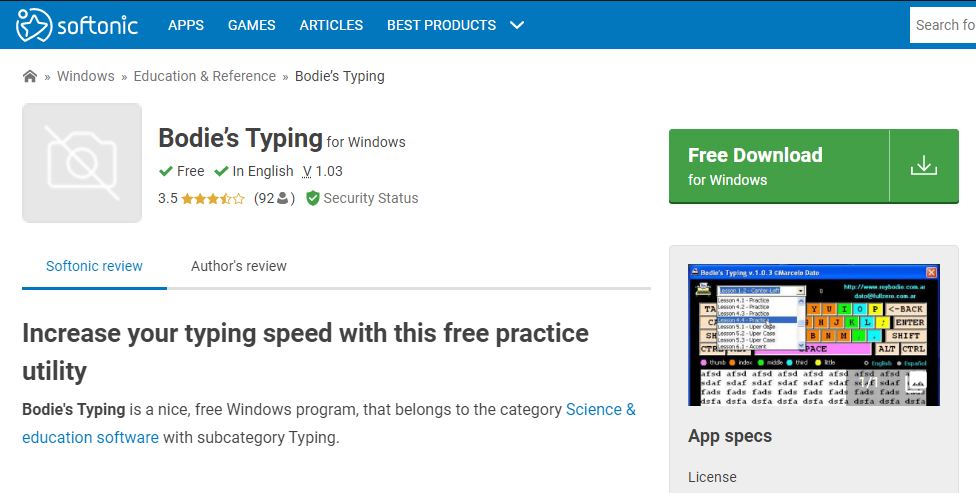 It is a free and easy-to-use typing app that helps the user to learn typing skills in just a few weeks. You will see significant progress in the rate of typing on careful use of this unique programme and doing everyday practise using this method, and also there the accuracy of typing can be increased. This app facilitates the learning of type strategies, a type of typing where the individual types without keeping an eye on the keyboard.
Just Type Typing Software
Just Type is a kind of free typing programme that helps to make the user capable of typing properly and boosts his speed. It teaches its users the touch style method, a trivial sort of programme. The 'touch type' is a typing technique where without looking down at the keys, the person who types barely looks at the keyboard and types. It can be incredibly helpful for children to learn and practise the skills needed for this form of typing. The specific programme has the specialised form of keyboard designs in it as well.
Kiran's Typing Tutor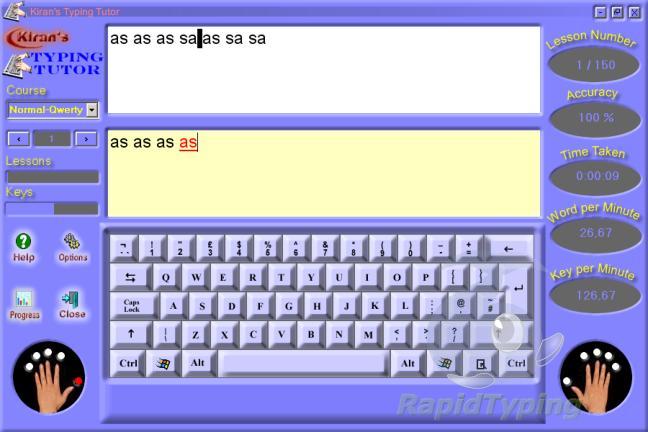 Kiran's Typing Tutor is a form of typing programme that is free and easy to use, allowing the user to learn and obtain the right typing processes. The app enhances the pace of typing and also enhances its performance in terms of everyday use and experience. Many various types of tests and evaluations and even games related to typing are given, which help to improve the skill of the user to type and improve his level. With the aid of this app, the user will see his regular changes on the phone.
Cool Typing Tutor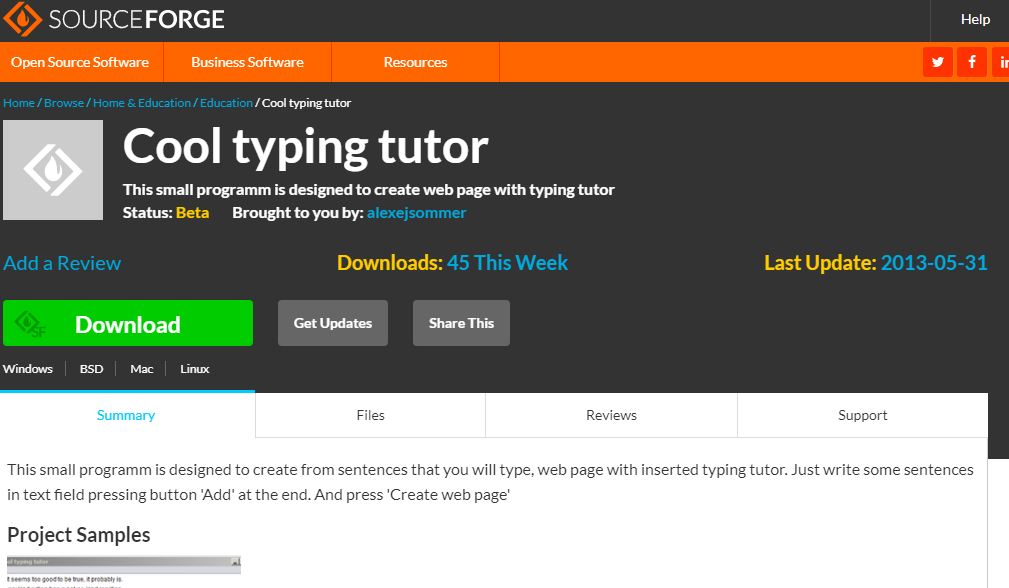 It is a free typing app that lets its users learn to type and helps to make users proficient in the art of typing and increases the speed of typing. The app for simple learning and everyday practise offers different kinds of lessons. This aims to increase the typing rate and also teaches the correctness of the words typed. Even being a trivial app, it helps to impart the abilities of touch typing to its users.
Analytical Eye Typing Tutor
Typing software is easy to use and makes it easy to learn and develop the requisite typing skills. Nowadays, at any point of our lives, the role of typing is incredibly significant. This unique programme strengthens typing techniques by supplying the information that is necessary for typing. This programme describes various types of games and assessments that make for proper and daily practise. It also watches and records the day-to-day progress of the typing capacity of the customer.